Australia's Coral Coast
SMart Visitor Data Network
The opportunity
Spanning from Cervantes to Exmouth, Australia's Coral Coast is significant tourism zone that currently attracts 1.2M visitors per annum staying for an accumulated 5.8M nights (Tourism WA 2017). These visitors spend approximately $800m per annum in regional communities, supporting 930 local businesses and 2,210 jobs (Tourism Works Atlas 2016). Whilst these trends are impressive, and underpin economies and communities throughout the Coral Coast, the tourism region has the potential to build a proposition that attracts a far larger share of domestic and international markets. Realising this will require public and private decision makers to develop targeted products that reflect future trends and market needs.
The Mid West and Gascoyne Development Commissions (encompassing the southern and northern aspects of Australia's Coral Coast respectively), and RDA Mid West Gascoyne, have recognised the importance of tourism to their communities, and the opportunities for growth within this sector of the economy. The Mid West Regional Blueprint has set an explicit goal to attract 1 million visitors to the region that 'stay and enjoy the region for longer". Likewise the Gascoyne Regional Blueprint has set a goal to nearly treble tourism employment in the Region by 2050. To realise these targets, public and private decision makers will need to make ongoing, targeted, coordinated and well-informed decisions. High-quality real-time user behaviour data will be required to inform these decisions.
Modern smart visitor monitoring technologies provide an opportunity to inform tourism strategy and initiatives with live, constant visitor data monitoring that captures the behaviours of visitors to a region from their point of entry to their point of exit. This data includes insights into:
User behaviours (including quantity, repeat visitation, routes and dwell times)
Seasonal variation in behaviours
Relationship with weather conditions and events-based programs
Identification of tourism hot spots and dead zones
Understanding of the impacts of infrastructure and program investment
Ability to benchmark against comparative tourism regions/towns/sites
Ability to 'push' information and questionnaires to visitors to capture demographic data and subjective perspectives
A recent successful 3-month pilot of smart visitor monitoring was undertaken in Geraldton, with a sample of the outputs provided below: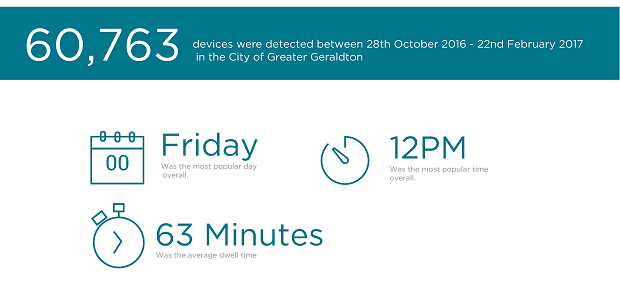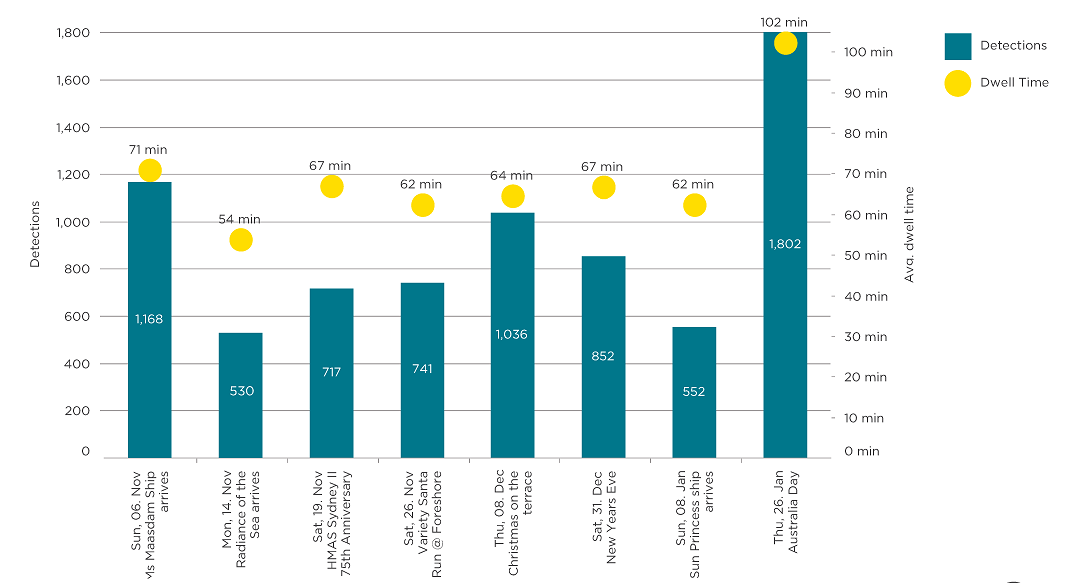 Australia's Coral Coast Smart Visitor Data Network
An opportunity exists to utilise the Australian Federal Government Smart Cities and Suburbs fund to deploy an integrated visitor data network throughout Australia's Coral Coast tourism region (titled the Australia's Coral Coast Visitor Data Network). This initiative will provide a cost-effective network of passive and active smart tourism data collection infrastructure throughout all major Australia's Coral Coast communities and tourism infrastructure. The project will provide a hardware and software base, upon which data can be passed through, collected, analysed and disseminated to multiple parties and utilised in different ways.
Active and passive tourist data will be captured from a range of sources by sensors deployed in a network throughout the Coral Coast. This data will be cross referenced with potential causal factors (e.g. weather and traffic) to produce a complete picture of what tourists are doing, and why they are doing it. This will be communicated in a dashboard that is tailored to the key decisions being made by public and private decision makers on an ongoing basis. The concept is described graphically below.
The project will deliver:
An extensive network of active and passive tourism monitoring technologies throughout all major communities and tourism attractions within the Australia's Coral Coast Tourism region
Weather and traffic sensor technologies deployed alongside tourism monitoring infrastructure to allow for an understanding of relationships with visitor behaviour
Wifi infrastructure that encourages capture of visitor demographics and perspectives
A tailored tourist-oriented mobile app for Australia's Coral Coast that
Integrated network of microprocessor technologies to allow for realisation of benefits of future 5G technologies to regional communities
Funding is available to cover up to 50% of the cost of the project, with the remainder anticipated to be contributed by private capital, and interested State and Local Government Agencies.
Project Benefits
What's in it for the LGA's, Agencies and regional tourism providers?
Access to a rich source of real-time tourist behaviour data for the region as a whole, either as part of an ongoing service or on demand as required
Deployment of a Coral Coast-wide app that can promote locations, push messages and capture further user data as tourists move through the region
Training in the application of data collected
Provision of low energy LED public lighting in remote tourism nodes
Provision of smart network infrastructure that can allow for:

Offer of public wifi at remote locations
Development of remote sensing and management solutions at public campsites and popular tourism nodes (e.g. bin management, smart parking and dwell time solutions, monitoring of antisocial behaviour)
Development of 5G-ready infrastructure for utilisation as mobile technologies start utilising this network
Development of capacity to allow for further deployment of smart technologies (including the piloting of smart technologies) in the future
Who has access to the data and when?
Access to data will depend upon which groups ultimately invest and support infrastructure deployment
It is anticipated that each local government within Australia's Coral Coast will receive a subscription to the tourist behaviour dashboard that sumarises data outputs from the network for a period in exchange for access to sites for deployment of sensor nodes, and a contribution to the capital expenditure associated with the project
Project Specifications
The project will be delivered over five stages of deployment, with a network of tourism monitoring nodes ultimately stretching from Cervantes to Exmouth. These Stages broadly are described as:
Stage I: Geraldton to Kalbarri
Stage II: Carnarvon to Denham
Stage III: Geraldton to Carnarvon linkages
Stage IV: Carnarvon to Exmouth
Stage V: Cervantes to Geraldton
Indicative locations and GPS coordinates of the nodes can be seen on the interactive map below. These have been chosen due to their proximity to populated areas and major tourism paths however will be refined with feedback from regional stakeholders. To use the map please click on the button on the top left to toggle between different stages. Click on each nodes for further information.
Potential Data Node Locations
The project will be delivered through deployment of highly integrated bundle of Australian technologies supported by internationally proven backbone infrastructure. Key partners potentially include:
Trendwise - Perth-based firm specialising in deployment and utilisation of visitor data and analytics technologies
300K - Australian indigenous developed enterprise specialising in the deployment of smart street lighting infrastructure that is able to house and host a range of sensor technologies
NGT Downer - Major international corporation focussed upon infrastructure deployment and data application
Integration Hub Pty Ltd - Western Australian-based smart technology accelerator focussed upon encouraging application of smart technologies to resolve challenges faced by Australian regional communities
Project Resourcing
Based upon the initial indicative project specifications, it is anticipated that the ACC Visitor Data Project will require deployment of around 60 nodes spaced 20-30km apart between Cervantes and Exmouth. Each of these nodes includes $4,000 of infrastructure and technologies, with a cost of $6,000 in labour and logistics. This equates to a total project budget of $600K plus an additional $150K for app development and hosting, and data management, resulting in a projected overall project capital expenditure budget of approximately $750K (costs are estimates - subject to detailed design).
Whist the project may be able to be deployed in stages it is suggested, to take advantage of available funding, that the entire project is resourced in a single stage.
A potential funding contribution model for the project is outlined below.
Base service -
LGA
Major town
centre - LGA
Associate
tourism agency
Associate
enteprise
Financial Contribution to funding
$5K
$15K
$20K
$20K
In-kind contribution to funding
Access to sites for technology deployment
n/a
n/a
Benefits
3-year subscription to visitor data
3-year subscription to app to promote tourism assets and events
Access to training materials and web-based support
Additional
5 plug-in data collection nodes available to be deployed throughout town
centre
Tailored dashboard
reflecting specific interests
Utilise
public wifi infrastructure to capture further visitor data
Recognition as an associate
of the project
Stages to Funding Submission
To realise the opportunity of Federal Government Smart City and Suburb funding a grant application needs to be submitted by 30th June 2017. Timeframes are therefore tight if this opportunity is to be realised. There are five stages of work that need to be completed to meet these deadlines:
Establish regional buy-in - understand the interest and potential contributions that regional stakeholders may make to the project
Detailed project specifications - undertake a detailed project design process to a level that allows preparation of budgets and a project plan
Establish the delivery model and confirm capital commitments - define roles for individual stakeholders and confirm public and private capital commitments
Prepare funding application
Confirmation of support by agencies and LGAs, provision of letters of support and submission of funding application
What Can I do to Support the Project
The project team is seeking champions who can help build the impetus and specifications of the project to best support an application to the Smarter Cities and Suburbs fund. As such we welcome the opportunity to provide more detailed briefings to key stakeholders, and to work closely with Local Governments and agencies to develop the project to best meet the needs of Coral Coast communities and businesses. In the near future the project team will be in touch to capture perspectives of stakeholders and communities however in the meantime please feel free to contact Jason McFarlane from Integration Hub on 0412 836 147 or at jason@integrationhub.com.au to provide feedback, or for further information.